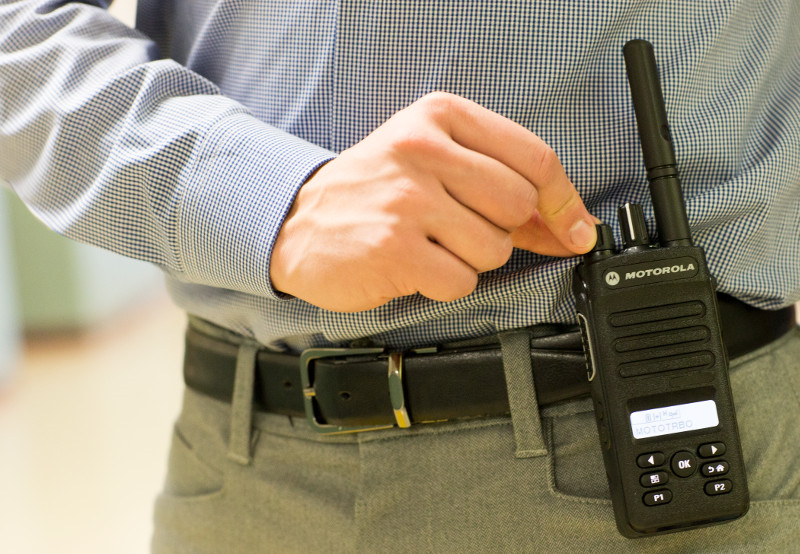 Despite that smartphones and tablets are increasingly popular, many companies, events and organisations still rely on two-way radios to ensure reliable radio communication between their mobile teams.
For that reason, CTM offers convenient two-way radio rental services in Quebec and Ontario. As an authorized Motorola dealer with over 50 years of experience in the industry, we take pride in providing you with the finest two-way radios on the market.
Why is it often better to rent two-way radios?
The choice to rent, lease or buy greatly depends on the duration and frequency of your radio communication needs. Buying or leasing equipment is a big commitment and investment. Once a contract is signed, there's usually no going back to upgrade your equipment. This means you're stuck with the same quality of equipment until it's absolutely necessary to upgrade, which can mean several years.
As you're certainly aware, technology accelerates at a fast pace. Today's best quality two-way radios on the market will most likely not be next year's best. For that reason, renting two-way radios is a great way to reap the benefits of the best equipment on the market without making a huge commitment or investment. It also means that you can try out new equipment in order to decide what communication infrastructure is best for your team if ever you are to invest in equipment for the longer term.
For some companies, communication needs can greatly vary per project and investing in new equipment to perfectly suit each and every environment and condition can be costly. For those situations, renting is an economic way to ensure that your communication infrastructure is tailored specifically to each and every project, no matter if it's outdoors at -40° C or hundreds of feet underground.  
Last but not least, owning equipment can involves significant routine maintenance and the costs of which can quickly add up. Depending on the duration of your rental, routine maintenance is often not necessary since we'll provide you with fine-tuned equipment every time.
Curious about renting equipment for an upcoming project?
CTM's inventory of two-way radio rental equipment includes:
VHF and UHF two-way radios

Various types of trunking systems available

Two-way portable and mobile radios

Repeaters

Full range of two-way radio accessories

Portable analog and digital two-way radios
By renting Motorola two-way radios for your projects, you ensure your team clear and uninterrupted instant communication. Take a look at all the advantages you get from renting your two-way radios from CTM:
24/7 service

Vast selection of radio accessories: batteries, earpieces, headsets, chargers, microphones, antennas, Bluetooth accessories, etc.

Daily, weekly, monthly or longer contracts for radio rental

Warranty on equipment with the exception of onsite physical breakage

Fiscal advantages

Shops and mobile certified technicians available at all time in Montreal

Custom programming and engineering for specific layouts

Access to radio repair services in shops and on location

Delivery service directly on location
Not sure if renting is right for your industry?
Our Montreal's two-way radio rental services clients include: